Information on hot water tour
Information on hot water tour
Kutsurogijuku operates two Kutsurogijuku in the Higashiyama Onsen Town"Shintaki" and "Chiyotaki".
As a service that can only be managed by two museums, you can enjoy the "hot springs" at both theaters.

When you stay at this facility, you can also use the Sister Hall / Chiyotaki bath.
The distance of 2 inns is about 4 minutes on foot.Please enjoy the hot spring.

Higashiyama Onsen water of Higashiyama Onsen is a refreshing sulphate spring that is friendly to the body.It is the perfect quality of fountain for overflowing hot springs.

Calcium · sodium sulfate fountain for spring quality.
It is said that calcium sulfate has sedation, anti-inflammation and antipyretic action, so it relieves pain and itching.
Sodium sulfate binds to proteins on the surface of the skin to make a thin membrane, so it improves blood circulation and is said to have a high heat retention effect.
Shintaki
【Sennen-no-yu, Open Air Bath·Marble bath】

Shintaki
【Sennen-no-yu, Rock bath of self-firing rock】
Shintaki
Large Communal Bath, "Watari-yu"

Shintaki
Large Communal Bath, "Saru-no-yu"
Chiyotaki
Large Communal Bath, "Outlook bath, Yuzuki-no-yu"

Chiyotaki
Half outdoor bath, "Fumoto Yu"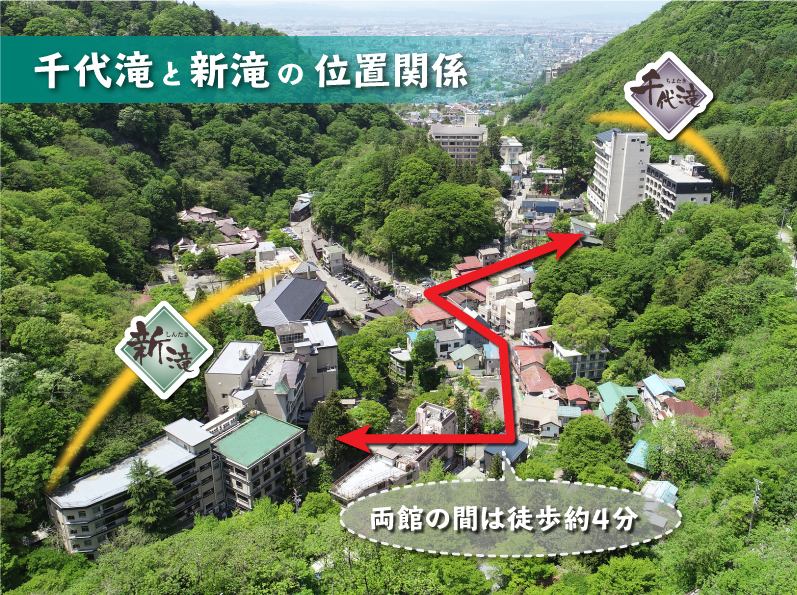 ※We may not be able to guide you around the hot springs due to inspection, repair or group rental, so please understand in advance.
 Regarding the availability of the hot spring of the staying day, please contact us separately.

※At the hotel's public bath, you can not use "customers with drunkness", "customers with tattoos (including tattoos)" to maintain comfort, safety and security of all customers.